Tomfoolery visits Year 9 students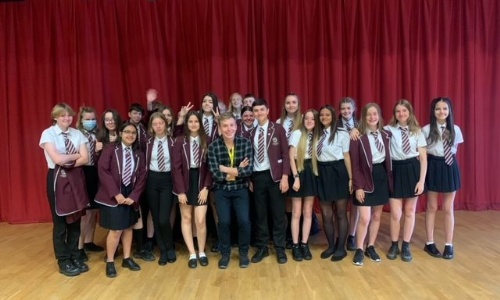 Beth from Year 11 invited English poet Tomos Roberts, also known by his pen name Tomfoolery, to Chessington School today.
Beth first discovered Tomos Roberts during the lockdown in 2020 when she was in Year 9. The same year his poem, "The Great Realisation" was first released which attracted over 100 million views on YouTube and was shared by people such as Jennifer Anniston and Khloe Kardashian. His poem inspired and motivated Beth during the pandemic so much that her love of writing stories and poems about her life made her reach out to Tom on his Instagram – but she did not expect a reply!
Miss Chedda, Head of English, was thrilled that a student had invited her poet idol in and helped set up the session.
Today, Tom talked about different kinds of poems and gave creative writing advice to our Year 9s in the theatre. "It was a very talkative and interactive session making it a very enjoyable visit for all involved", said Beth. Tomfoolery is currently on a mission to release a new poem every single day of 2022.
Tom signed both of his books for Beth which made her very happy!