GCSE RESULTS - BUCKING THE NATIONAL TREND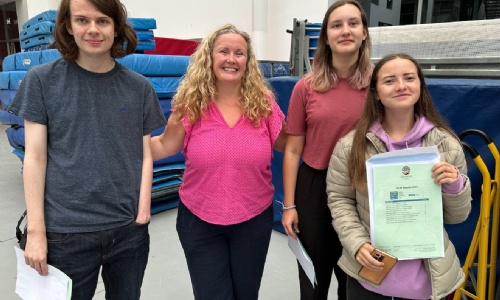 Year 11 truly deserve the success they have worked so hard for.
We are delighted to announce that Chessington School's Year 11 students have achieved another cracking set of GCSE results.
Today the press is full of stories of grades being harder to attain, 'pre-covid plummets' and school results nationally dropping at record levels. We are very happy to report that Chessington has bucked this trend. Our results and progress have risen again on the last set of public examinations and on pre-covid results. This is truly a mark of the great work of the teachers and families, but most importantly our students over these past years. Well done class of 2023.
Our students have enjoyed the fruits of their labours and we wish them the very best in their next steps. What they have achieved over these tumultuous last few years gives a clear indicator of their success to come in, what we hope, will be a slightly easier time ahead. It has been a very enjoyable day here at Chessington with tears of joy, jubilant celebration and congratulatory hugs.
A number of individual performances have been exceptional - with students such as George Maxwell, Trish Vu, Niels Vanderberghe, Tommy Smith and Sonny Aldis consistently hitting the very highest grades. This is fantastic and well deserved; particularly with the grade boundaries for a grade 9 at the highest they have ever been.
As well as this, what always gives me the biggest smile is the consistent progress that our students make irrespective of their starting point. Students such as Jake Viner, Liam Willis and Emily Pearman have made outstanding progress; they have achieved brilliantly. We pride ourselves on adding value to the academic progress of our students and when it is so clearly seen it is incredibly rewarding.
This broad progress from all of our students of all backgrounds demonstrates that we are a truly inclusive school that embraces our 'Every Child Every Day' ethos successfully. So, very well done Year 11. You truly deserve the success you have worked so hard for.
We look forward to witnessing your successes over the years. Here is to another excellent year ahead at Chessington.
Mr. A. Ali
Executive Head Teacher
Ms Wilson, Head of School, said: "This year group have done themselves and the school proud, they have shown that effort equals success in every possible way. I wish them all the very best of luck for what I know will be a bright future"
"Another excellent year at Chessington School. I am proud of course of those that got the very best grades but also admire those who worked tirelessly and made exceptional progress irrespective of their starting points. Well done to you all." Karen Carman - Chair of Governors
There are photographs on all our social media, Facebook, Twitter & Instagram.