Chessington hosting Rotary Young Chef Competition, Friday 18th November.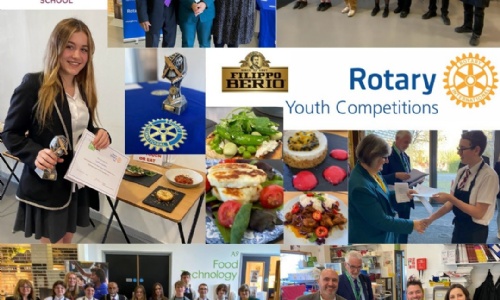 Please enter an introduction for your news story here.
On Friday 18th November, part of the Rotary Young Chef Competition, sponsored by Filippo Berio, took place at Chessington School. Budding chefs from The Hollyfield School, Grey Court School and Chessington School competed in the fun and friendly competition for a place to go through to the under 17's district final.
Taking part were:
Hollyfield: Oliver C & Naseem A.
Greycourt: Sophia C, Ben H & Isla D.
Chessington: Lianna P, Rosie S & Ronnie D.
The task: create a three course healthy meal in 2 hours comprising a starter, main course and dessert for two people and costing less than £22!
The judges criteria, from cost, healthy choices, correct use of equipment, neatness, range of skills, hygiene, presentation and of course taste, gave for a tight competition.
RBK Mayor, Cllr Yogan Yoganathan, joined the judges and members of the Rotary Club to announce the winner, hand out certificates and the trophy.
Congratulations to the winners:
1st place: Sophia C. from Greycourt
2nd place: Ben H. from Greycourt
Judges prize: Naseem A. from Hollyfield
Many thanks to the judges: Edoardo Izquierdo & Joao Mendonca
Many thanks to the Rotary Club: Hilary Buzasi & John Watts
And lastly, a huge thanks to our very own Mrs Ford, for helping to organise and allowing her school kitchen to be used for todays competition.