Understanding the 9-1 grading system
GCSEs are being reformed to make them more demanding and to allow greater differentiation between levels of ability. The headline changes are:
More demanding course content
Assessment based solely on terminal examinations i.e. no more coursework
Grades will be awarded on a scale of 9-1, rather than the old A* to G
GCSE 9-1 grading: What does it all mean?
9 is the highest grade, and 1 is the lowest, not including a U which means ungraded.
Three number grades, 9, 8 and 7, correspond to the old-style top grades of A* and A – this is designed to give more differentiation at the top end.
Ofqual, the exams' watchdog, says fewer grade 9s will be awarded than A*s and that anyone who gets a 9 will have "performed exceptionally".
A 4 is broadly being compared to a C grade, although Ofqual warns against "direct comparisons and overly simplistic descriptions".
There are two pass marks: 4 is a standard pass and 5 is a strong pass. This means that a candidate who gets nine 4 grades has, technically, passed all their exams.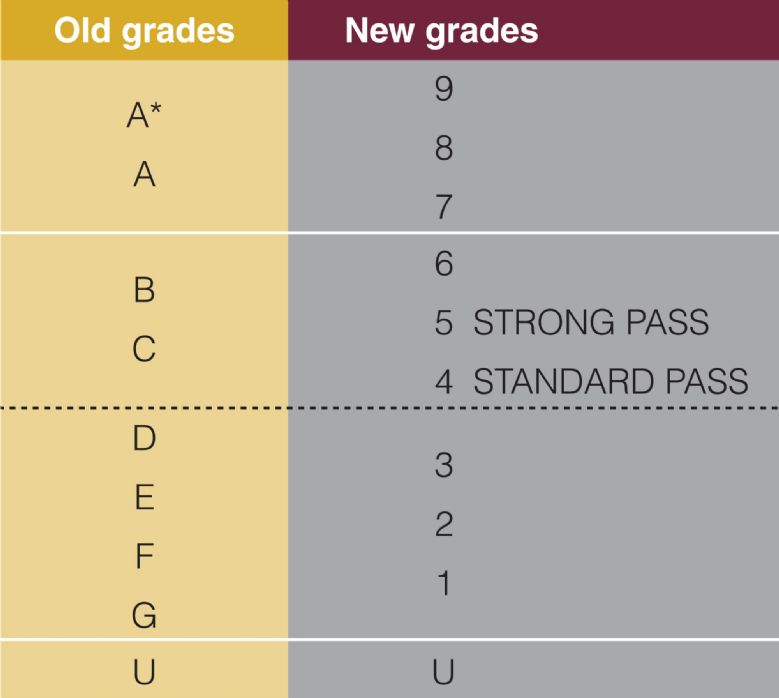 Impact on students
The impact of the reformed GCSEs on students will be:
Greater demands on memory and retention for terminal examinations
Greater challenge in examinations e.g. emphasis on problem-solving in maths
All the student's GCSE results will now be given a numeric grade and entry requirements for further education, employment and training will also be numeric.
The minimum standard for Maths and English is Grade 4. Students not achieving a grade 4 in Maths and/or English will have to re-sit those exams.
There is still some confusion and debate around "pass" grades for Maths and English and students should check with course or training providers if the requirements are not made completely clear.
Supporting students
As a school, we have:
Trained staff as appropriate on the new GCSE content
Re-written schemes of work to incorporate new content
Re-designed schemes of work to help with memory and retention requirements of final examinations
We will continue to provide support and intervention to students in all year groups.
As a school, we would ask parents and carers to support students by:
Ensuring their attendance at school is good
Encouraging attendance at support and intervention classes
Support their independent studying at home